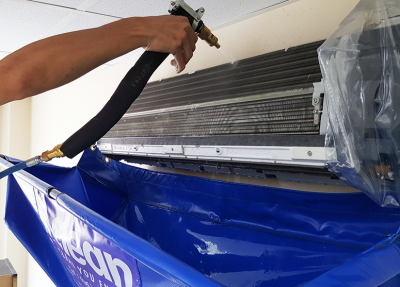 Why Choose IWash?
Our highly skilled and trained technicians are experienced at air-conditioning maintenance, repair and installation for residential and commercial buildings. IWASH is a revolutionary new cleaning method and differs from the brush and vacuum approach.
Prior to any cleaning, ICLEAN aircon waste bag is installed below the fan coil to collect all dirty water and waste. You do not need to worry as all these are sucked into our equipment waste tank.
Equipped with high pressurized water cleaner, any dirt accumulation on the the fan coil or condenser unit will be blasted off. Hot water is used to kill bacteria and harmful mold for a clean and energy efficient aircon unit.
Our technicians won't leave until a thorough check is performed both on the indoor fan coils as well as the outdoor condenser unit. Our goal is your complete satisfaction.
| Item | Price |
| --- | --- |
| IWash – System 1 | $45 |
| IWash – System 2 | $85 |
| IWash – System 3 | $120 |
| IWash – More than 3 fan coil | Call to Enquire |